AFC Bournemouth cult hero 'Gordon the Tramp' has made two national newspapers, Sky News and BBC News today.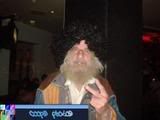 Gordon who is famous for telling the time without owning a watch, can be found in the North Stand at every Cherries home match.

But his celebrity status is set to go sky high after being featured in two national newspapers and on BBC and Sky.

Although Gordon wasn't too convinced with Potter's attempt to sell him a fanzine!



To view the stories, follow the links…

The Sun

Daily Mail

The BBC

Sky News


It's easy to join upthecherries
Simply register with upthecherries and enjoy getting involved! (you can even win prizes just by having your say on the articles, polls and forums.)


Get involved
This website is one of the largest Bournemouth fan sites around and we are looking for people to contribute to the site. Do you go to most of the games and have an opinion? Why not write a match report? Perhaps you are a budding journalist or even just someone who is very opinionated? Well why not write an article? If this interests you, please E-Mail DJ or use our online suggestion pages to either write and article or suggest a poll.


Supporting the Club
upthecherries helps to raise money for the football club through it's sponsorship of Cherry Bear.